Name: Jake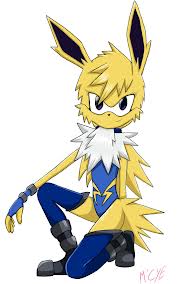 Species: Jolteon
Age/Level: 12
Crush: Eve the Fox
Powers: Lightning Powers, Speed.
Likes: Fighting
Dislikes: Pie
Overview
Edit
Jake is a twelve year-old Jolteon,a rare species here.And his crush is Eve the Fox.
Jake was transported to Fourth Parallania,when he was sucked into a Genesis Portal along with Eve the Fox,and he had to follow her around,since it was a dare.