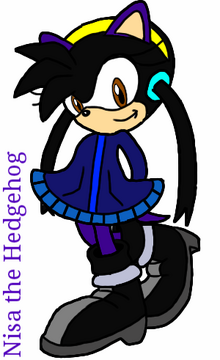 Name: Nisa the Hedgehog
Age: 12
Gender: female
Powers: lightning, wind, flying
Teams : G.U.N.,Team Light
Likes: being with her friends, chocolate, cookies, running, flying around
Dislikes: evil, something dangerous, fire, villains.
Overwiew
Edit
Nisa is a twelve year old hedgehog,that is a member of Team Light,and she fights evil togather with Andrew Clark the Hedgehog and Officer Aleron the Hedgehog.She can manipulate lightning and wind.
Nisa grew up as an orpan,and made lots of friends,and she's trainig her powers to protect them.In th future,she would get hurt by a fire,and it's cause was her powers,since she can manipulate it.